CHILDREN ALL OVER THE WORLD CELEBRATE PEACE
‎
September 21 is designated by The United Nations as International Day Of Peace. A day to bring people together, regardless of cultural, religious or other identities, to celebrate peace and non-violence throughout the world. The first Peace Day was held in 1982. A variety of events take place all over the world, from parades and peaceful marches, to activities arranged by students. The latter merits commendation, as children are the future peacemakers of our world.
Students from The Children's House Montessori School in Camden, Maine, along with their teachers, gathered around a peace pole. They placed peace stones around the base of the pole. These stones contained each student's wish for peace. One of the messages read, "May peace prevail on earth." Afterwards, members of the community joined the students and teachers in a parade through the town.
At a youth peace camp in Africa, students and counselors reflected on the words of Martin Luther King Jr., dedicating themselves to the nonviolent pursuit of peace and justice. They created and signed a a group peace commitment, that states as follows:
We who participated in the peace camp,
we swear in God's and men's eyes
that we will be catalysts for peace in both good and bad times,
valuing everybody, mediating,
resolving conflict without favouritism,
helping to make informed and wise solutions,
striving for peace and restorative justice,
fighting any type of violence,
guided by the word of God,
may God help us to achieve this noble commitment.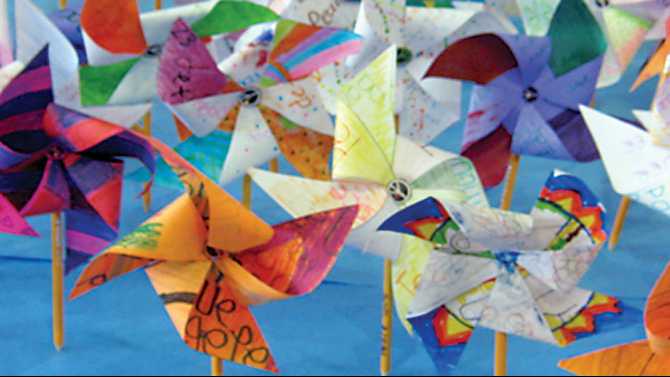 Alexandra, a fifth-grader at Sacred Heart Cathedral School in Knoxville, Tennessee, was one of many students who participated in celebrating International Day of Peace using none other than pinwheels. In fact, students from Europe, Asia, Australia, Canada and Africa, also created their own pinwheels decorated with individual messages of peace, then placed outside of the respective schools. Some students used their pinwheels to spell out "Peace."
"To be peaceful, you don't have to do anything big," said Alexandra, "It's not like you have to do some ginormous thing," the 10-year-old said Wednesday morning before heading off to her first class of the day. "You can do small things, too, just to help. Without peace, no one would be friends and it would just be a sad world."
An art teacher at Sacred Heart, who helped organize the event, explains the intent behind the international pinwheel project:
"As the (pinwheels) spin, these good vibes are supposed to be spread," she said. "You're imagining 3.5 million spinning pinwheels with good thoughts and good vibes."
In the United Kingdom, students at the St. Peters Junior school in Raunds celebrated the International Day of Peace by wearing white clothes. The students also created decorative paper doves, which is the International symbol of peace, and then used the day to reflect in class the importance of peace in the world, as well as how to solve conflicts.
The way I see it isn't necessarily the way you see it … or the way it is or ought to be … what's more important is that we're all looking for it and a way to see it.~Desi Di Nardo
[youtube http://www.youtube.com/watch?v=o4fWN6VvgKQ&w=420&h=315]
How important is peace? Peace is the essence of existence. Peace permeates with freedom … freedom to pursue one's dreams without fear of violence, retribution or suppression. Peace nurtures an individual's ability to express one's self. Peace provides the opportunity to relate to others with understanding, compassion and love. It is the premise of Humanity's survival.
Ask any child, they are more able to talk about the necessity of peace in the world than most adults. The children of our world give peace a chance!
One Response to CHILDREN ALL OVER THE WORLD CELEBRATE PEACE